TRAVEL CHIC INTO HISTORY WITH A FINE PIECE OF LUGGAGE!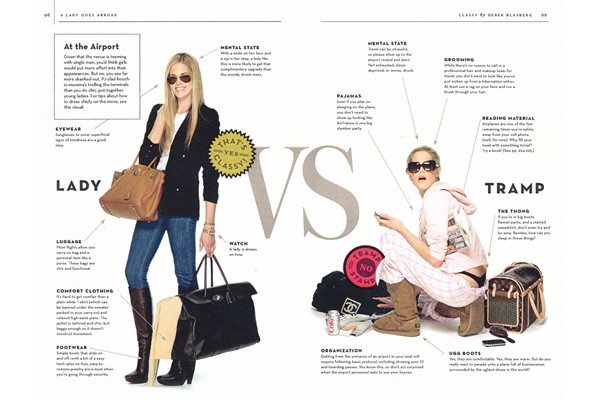 Back in the 1920's and 30's, to have a set of custom-made luggage was a luxury afforded only by the rich. The concept of travel was different then too. Young men traveled the world to finish off their educations and women traveled to get some relaxation time from their hectic and straining social schedules. Most luggages was made from wooden boxes and covered in the finest leather cowhides. All trims were hand stitched and lined with silks and canvas. A good set of luggage wasn't high up on the list for the average girl during those times. In addition to clothes and larger items kept in huge trunks, a minimum of eight pairs of shoes were kept in shoeboxes alone. Women had a separate, usually much smaller, piece of make-up or toiletries luggage. Luggage was bought mainly by women as part of her obligation to her "man". One of the obligations of new brides, according to an article from Cosmopolitan magazine in 1935, was her responsibility at making sure that the "box room" or luggage room was well maintained by the servants. It was her responsibility to make sure that the luggage was well-taken care of – waxed, polished and cleaned inside and out.If you're sick of analyzing black bags on the carousel to find out which one is yours, and often find yourself yearning for a bit more originality in the way of luggage or carry-ons, then find an old, vintage piece and give it new life!
Changing fashion trends from the 1920s to 1930s!
While the sense of style and individuality in woman's fashion did not vanish entirely, there was a move toward more feminine and ladylike women's clothing to return to women their femininity without giving up the gains that were won in the 1920s. As such, bust lines were no longer suppressed and women's clothing emphasized rather than suppressed the curve of the waistline as well.
Hairstyles of the 1930s also became more feminine as perms became more sophisticated to bring out the softness and beauty of the hair. While in the 1920s, the woman's forehead was commonly hidden by hats, it was revealed and emphasized as part of a look that took on a modern feel in the 1930s. Eveningwear replaced the 1920s woman's styles that were outrageous and festive with elegant and glamorous woman's outfits for an evening on the town. The economic calamity of the Great Depression changed values dramatically and woman's clothing in the 1930s reflected that change. There was a move toward more practical garments for daily wear. Women now felt both liberated and called upon to contribute to the family income as much as they could and this meant clothing that looked good but were durable and functional as well.
The classics that keep repeating themselves!
Much of 2013/2014's most fashionable looks have been borrowed from the past. We continue to be inspired by the style icons of the 50s, 60s, 70s and 80s. As much as we'd like to believe that our high waisted jeans and skirts are modern and unique, the fact is that they are not. A new spin on an old classic is what they really are. From oversized sunglasses which Audrey Hepburn made famous to Marilyn's cinched waists accentuating the womanly hourglass figure, they are all classics which are back in fashion. Not only are these styles back in fashion lately but they have a history of making their way back on the runways every few decades. They are here to stay no doubt. So why not invest in these classic pieces that you, your daughter and your grand daughter can all enjoy? Three generations is an investment well worth it. Another very timeless fact about these classic silhouettes is that they somehow look great on all body types whether you are tall and lean like Audrey or full figured like Marilyn. How can you go wrong accentuating the tiniest part of your body, the waist. Loose long sleeves, a classic Grace Kelly look, is another one which is universally flattering. This style makes your arms look thinner and longer attracting less attention to those flabby upper arms if you suffer from those or making them look less bony if you have really skinny ones. These four decades from the 50s to the 80s have been the most influential years in terms of women's styling. The grandeur that we saw in hollywood films during this era in the wardrobes of actresses is incomparable to anything we have today. Today, dresses have been reserved for special occasions whereas in the 50s and 60s especially they were an everyday staple wardrobe item for average women around the world. Jeans have taken over that space today and it is truly sad. Nothing spells womanly like a dress!
Author: Marina Sobe-Panek